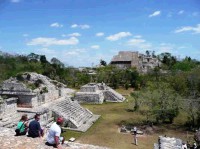 Visit Ek Balam (Mayan for "black jaguar").
Ek Balam is probably one of the most beautiful Mayan ruin cities, though few buildings have been excavated is definitely worth a visit, if only for the well-preserved Frescos at the excavation site. After lunch in Valladolid, you'll visit the old colonial town, visit the monastery. and go for a swim at cenote Zaci.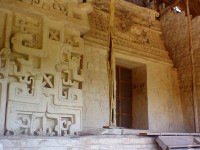 Ek Balam (Mayan for "black jaguar").
The earliest traces of settlement date back to the period between about 100 and 300 AD. Ek Balam's heyday was between 700 and 1000 AD. A double ring of walls over 1.25 square km big surrounds the enclosed center of Ek Balam. The settlement outside the walls covers an area of almost 12 km ². Ek Balam is dominated by the building, today usually called Acropolis, whose old name in inscriptions is specified as Sac Xoc Naj (White House of Learning). It is undoubtedly the largest surviving building of the Mayan culture in the north of the Yucatán Peninsula. The fourth level of the building is dominated by a huge snake mouth entrance in stucco relief that let the standing stone slabs figures, outstanding of the façade, look fully three-dimensional.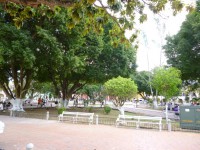 Valladolid
Have a typical Yucatec lunch at a restaurant with view of the cathedral. Established in 1543 by the Spanish Conquistador Francisco de Montejo and named by him after the former capital of Spain. In 1545 Valladolid was built in its current location over a city of the Maya named Zaki 'or Zaci-Val, where the buildings were torn down in order to use the stones for the Spanish buildings. visit the square and the old Monastery; build in the 15 hundreds, learn how the monks used to live there and see the old weapons found in the Monastery's Cenote, after the Monastery you'll have one last stop at the Zocalo (town square) before you leave for your hotel.
See more photos in our gallery.
Details
Duration:
06:00 am - 04:00 pm
Transportation:
VAN with A/C


What is included?
transportation
entrance fees
guides
lunch
What is not included?
What to bring?
shoes or closed sandals
bathing suite
towel
sun lotion (biodegradable)
bug spray (biodegradable)
pocket money
Availability
Please check availabiltiy first before making your reservation.
Pricelist
| # PERSONS | PRICE per Person |
| --- | --- |
| 1 | $ 509.00 |
| 2 | $ 289.00 |
| 3 | $ 209.00 |
| 4 | $ 189.00 |
| 5 | $ 169.00 |
| 6 | $ 149.00 |
| 7 | $ 129.00 |
| 8 | $ 119.00 |
All prices are calculated for pick ups in Playa del Carmen. For pick ups from hotels south and north of Playa del Carmen an additional charge of 30,- US, for pick-ups in Cancun and Tulum Hotel zone 50.- US, Playa Mujeres 125,- US and Costa Mujeres 175,- US per tour applies, payable at pick up.
---
Interested?
---