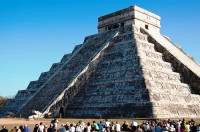 Chichen Itza is visited every day by thousands of tourists. Visit Chichen Itza before the mainstream of visitors get to the ruins and enjoy the peace and solitude while your guide explains everything about the city and the Maya. Then you'll drive to a beautiful restaurant in the jungle for a real Maya lunch, next you can choose going to a cenote where you can go swimming or visiting a Maya family in the jungle!!.
What will you see?
Chichen Itza (in the mouth of the Itza spring)
Chichen Itza is located about 400 km west of Cancun and is probably the most famous Mayan ruin city in the Yucatan. Chichen Itza, founded around 400 A.D, had its heyday from 800 to 1200 AD and was the center of political, religious, and military power in the Yucatan. In its architecture is a gradual change of the architectural style, starting with the one in the Puuc style in Uxmal ruins and other cities in Yucatan and reached its peak with the Maya - Toltec style, recognizable by their similarity to the style in Tula, the ancient capital of the Toltecs, Oaxaca and other Toltec ruins cities along the Gulf Coast. Chichen Itza was a very large Mayan city with many inhabitants, who lived scattered around the religious zone that we now know as the ruins. Despite the large population, there was plenty of drinking water by many leading water caves and cenotes in the region. On a tour of the city, you will learn about the history of the Maya and Chichen Itza.
Lunch
After listening to the history of the Mayans in Chichen Itza you can observe the modern Maya life while driving through several small Mayan towns on the way to a beautiful restaurant overlooking a big lagoon for a real Maya lunch! Enjoy a delicious lunch Maya style in a beautiful restaurant At the buffet, you can choose from the salad bar, fish, and between Maya specialties, like Cochinita Pibil or Pollo Pibil, accompanied by rice or tortillas. 1 soda is included.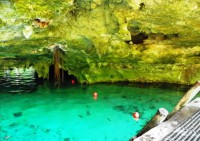 Gran Cenote (Sak Aktun = white cave)
Grand Cenote is part of the Sak Aktun ("white cave" in Mayan) system of underground rivers whose current flows from deep inside the Yucatan peninsula. Grand Cenote is a large beautiful garden cenote with white sand beach-type areas along with easily accessible caves for snorkeling and diving. With a circumference area of 202 meters, it is very popular for first-time cenote swimmers. With a snorkel mask, you can see large stalactites up close, non-swimmers can wade to the other side of the cave where they can walk around a natural open hole to the jungle above. Snorkelers can swim around the edges of the cenote, viewing depths up to 10 meters, views include columns of stalactites and stalagmites of all shapes and sizes which resemble cities of skyscrapers. Little green turtles paddle around near the garden´s edge.
Or alternatively, instead of the cenote, a visit to a Mayan family deep in the jungle!!!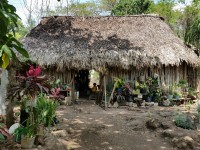 Maya Family
Visit the family in the house, learn how they make their tortillas and how they live, and go about their life in the jungle. After lunch, you'll drive to a Mayan village deep in the jungle to visit a Mayan family at their home. They will show you how they live in the jungle, their medicinal garden, their beehives. You can make tortillas with them and eat the tortilla you just made with some scrambled eggs and chaya (Maya spinach). The family also produces honey with the stingless Maya bee Melipona, which produces honey with high medicinal value.The family also sells handicrafts that they make themselves, such as blouses and the typical Mayan dresses for children with beautiful Mayan embroidery. Also jewelry, some made with seeds from fruits that the spider monkeys throw down after eating the fruits from the tree.
The family wants you to know that nobody should feel obligated to buy their handicrafts, everybody is welcome to visit and they will gladly show their way of life in the jungle!!
.
Details
Duration:
05:30 am - 4:00 pm
Transportation:
VAN with A/C


What is included?
transportation
entrance fees
expert guides
lunch
What is not included?
What to bring?
shoes or closed sandals
sun lotion
bug spray
pocket money
Availability
Please check availabiltiy first before making your reservation.
Pricelist
| # PERSONS | PRICE per Person |
| --- | --- |
| 1 | $ 549.00 |
| 2 | $ 269.00 |
| 3 | $ 219.00 |
| 4 | $ 199.00 |
| 5 | $ 179.00 |
| 6 | $ 159.00 |
| 7 | $ 139.00 |
| 8 | $ 119.00 |
All prices are calculated for pick ups in Playa del Carmen. For pickups from hotels south and north of Playa del Carmen an additional charge of 30,- US per tour, for pick ups from Tulum and Cancun 50.- US, Playa Mujeres 125,- US and Costa Mujeres 175,- US per tour applies, payable at pick up.
---
Interested?
---