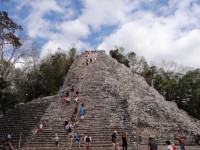 Visit the mystical Mayan Ruin City of Coba, only 40 miles west of the Riviera Maya and approx. 115 miles southwest of Cancun, once the biggest and most important City in Yucatan, climb the Pyramid Nohoch Mul and enjoy the fantastic view over the jungle. Visit a Mayan family at their home in a little village deep in the jungle. Have a jungle walk in Punta Laguna and observe some of the 500 Spider Monkeys living there in their natural habitat.
What will you see?
Coba (Maya: Cob Ha - muddy water)
The Maya name was Cob Ha and means muddy water, named after the muddy lagoons close to the site. Coba is the largest and oldest Mayan Ruin site in the Yucatan, with an estimated 6,500 structures dating back to 200 B.C. Coba has the highest pyramid in the Mayan world, at nearly 140 feet ( 42 m ) high, with 120 steps to the top, giving you a fantastic view over the jungle. Coba is estimated to have had significantly more than 50,000 inhabitants at its peak of civilization, and the built up area extends over some 80 km². The site was occupied by a sizable agricultural population by the 1st century. A series of elevated stone and plaster roads radiate from the central site to various smaller Maya sites near and far. These are known by the Maya term sacbe. Some of these sacbes go east to the Caribbean coast, and the longest runs over 100 kilometres (62 mi) westwards to the site of Yaxuna and connects from there to Chichen Itza. Your expert tour guide will share the wonders and history of the Mayan civilization with you, as you gaze in awe at how advanced these people were thousands of years ago.
Lunch
Enjoy a delicious lunch Maya style in a beautiful restaurant with an amazing view over the lagoon of Coba. At the buffet you can choose from the salad bar, fish and between Maya specialities like Cochinita Pibil or Pollo Pibil, accompanied by rice or tortillas.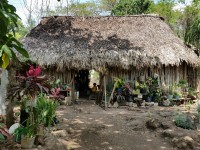 Maya Family
Visit the family in the house, learn how they make their tortillas and how they live, and go about their life in the jungle. After lunch, you'll drive to a Mayan village deep in the jungle to visit a Mayan family at their home. They will show you how they live in the jungle, their medicinal garden, their beehives. You can make tortillas with them and eat the tortilla you just made with some scrambled eggs and chaya (Maya spinach).
The family produces also some handicrafts, like blouses or the typical Mayan dresses Huypil) for children with beautiful embroidery. When the spider monkeys that live all around there in the jungle eat their fruit, they throw down the seeds, the Mayans pick them up and make beautiful jewelry, key chains ad other souvenirs from it.
The family also produces honey with the stingless Maya bee Melipona, which produces a honey with high medicinal value.
The family wants you to know that nobody should feel obligated to buy their handicrafts, everybody is welcome to visit and they will gladly show their way of life in the jungle!!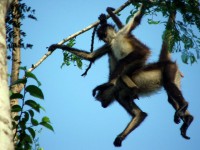 Punta Laguna (animal reserve)
Punta Laguna is part of a 5,000 hectar, government-protected nature reserve called Ma'ax Yetel Kooh, which is Mayan for "House of the spider monkey and the puma" In addition to the unique subspecies of spider monkey that inhabits the area, the preserve is also home to howler monkeys, pumas, coatis, jaguars and a variety of birds. The name comes from the ability to use its prehensile tail to hang from trees. The Howler monkey can swell his larynx to form a natural amplifier, allowing its cry to be heard as far as 10 km (5 – 6 miles) Group size is limited to 10 people so as not to frighten animals and to minimize the disturbance to their habitat. Not only are the guides knowledgeable as natives, but a research team of primatologists has provided them with more specific training regarding the wildlife. As you head into the jungle, you are actually hiking on a prehispanic platform (sacbe) that is often obscured by vegetation. Despite the thick jungle growth, there are several spots where temples and the tops of pyramids can be clearly seen. Most of the ruins are from the late classic to post-classic periods, around 700 to 1000 A.D., and are in the same condition as Chichén-Itzá and Uxmal when they were.
See more photos in our gallery.
Details
Duration:
09:00 AM - 5 PM
Transportation:
SUV or VAN with A/C


What is included?
transportation
entrance fees
guides
lunch with 1 soda
What is not included?
What to bring?
shoes or closed sandals to walk in the jungle
sun lotion
bug spray
pocket money
Availability
Please check availabiltiy first before making your reservation.
Pricelist
| # PERSONS | PRICE per Person |
| --- | --- |
| 1 | $ 469.00 |
| 2 | $ 249.00 |
| 3 | $ 189.00 |
| 4 | $ 159.00 |
| 5 | $ 149.00 |
| 6 | $ 129.00 |
| 7 | $109.00 |
| 8 | $ 99.00 |
All prices are calculated for pickups in Playa del Carmen. For pickups from hotels north of Playa del Carmen an additional charge of 30,- US, pickups from Cancun 75.- US, Playa Mujeres 125,- US and Costa Mujeres 175,- US per tour applies, payable at pickup.
---
Interested?
---