Visit Tulum one of the last cities built and inhabited by the Mayans, serving as a major hub for Coba, it was at its height between the 13th and 15th centuries and managed to survive about 70 years after the Spanish began occupying Mexico.Have a real adventure beneath the jungle in a cave system.
What will you see?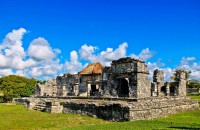 Tulum (Maya: Too Loom - Walled City)
Tulum was a walled city, protected on one side by steep cliffs facing the sea and on the other by a wall of about 12 feet in height. Tulum served as a trading port. The ancient Maya name was ZAMA=City of Dawn or City of the Morning Star. The buildings that are visible on the site date from the Post-Classic period, around 1200 to 1500 A.D., and the city of Tulum was functioning at the time of the arrival of the Spaniards.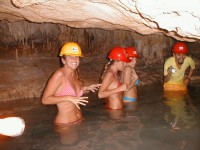 XIBALBA (The underworld of the Mayan Gods)
Have a real adventure at Rancho Santa Cruz, situated in the jungle close to Akumal in the middle of the Riviera Maya, near Cancun and Playa del Carmen. where you'll have a short jungle walk of 15 minutes, with some explanations about the flora of the jungle, to the cave entrance. Wearing your bathing suit you'll descend 10 feet into the Underworld of the Mayan Gods, a cave system. With a hard hat on your head and a waterproof flashlight in your hand you begin an underground trek. Halfway through your journey into the infra-world under the jungle you enter an underground swimming area where you can have a swim or swing from a Tarzan rope! Swimming and walking you continue your adventurous 45 minute walk, through tunnels and underground rivers up to your belly to exit the infra-world into a large depression.
See more photos in our gallery.
Details
Duration:
07:00 am -1:00 pm
Transportation:
SUV or VAN with A/C


What is included?
transportation
entrance fees
guides
live west
hard hat
What is not included?
What to bring?
shoes or closed sandals (no flip flops)
extra t-shirt
sun lotion
bug spray
pocket money
Availability
Please check availabiltiy first before making your reservation.
Pricelist
| # PERSONS | PRICE per Person |
| --- | --- |
| 1 | $ 389.00 |
| 2 | $ 219.00 |
| 3 | $ 159.00 |
| 4 | $ 149.00 |
| 5 | $ 129.00 |
| 6 | $ 119.00 |
| 7 | $ 109.00 |
| 8 | $ 99.00 |
All prices are calculated for pick ups in Playa del Carmen. For pick ups from hotels north of Playa del Carmen an additional charge of 30,- US, pickups from Cancun 50,- US, Playa Mujeres 125,- US and Costa Mujeres 175,- US per tour applies, payable at pick up.
---
Interested?
---